How to Navigate the Virtual Platform
Wondering how to navigate the FRPT 2021 Virtual Conference platform? We're here to guide you through!
Watch the extended "How-to" video to get familiar with all the available features of the Virtual Platform and find out how to make your way around.
If you have any questions or issues, don't hesitate to contact our technical support via the chat, accessible through the platform during the live Conference days.
Enter the FRPT 2021 Virtual Conference platform
Go to the virtual conference login page
Type in the login credentials you received via email (you must have a valid registration, to get access to the platform. All registered participants will receive their login details via email a few days before the Conference)
Click on "Sign in"
If you're having trouble logging in, please contact us at reg_frpt21@kenes.com
Please note – The FRPT virtual platform will be accessible from 1 December 2021. Please do not sign in before this time as you will not have access to the platform.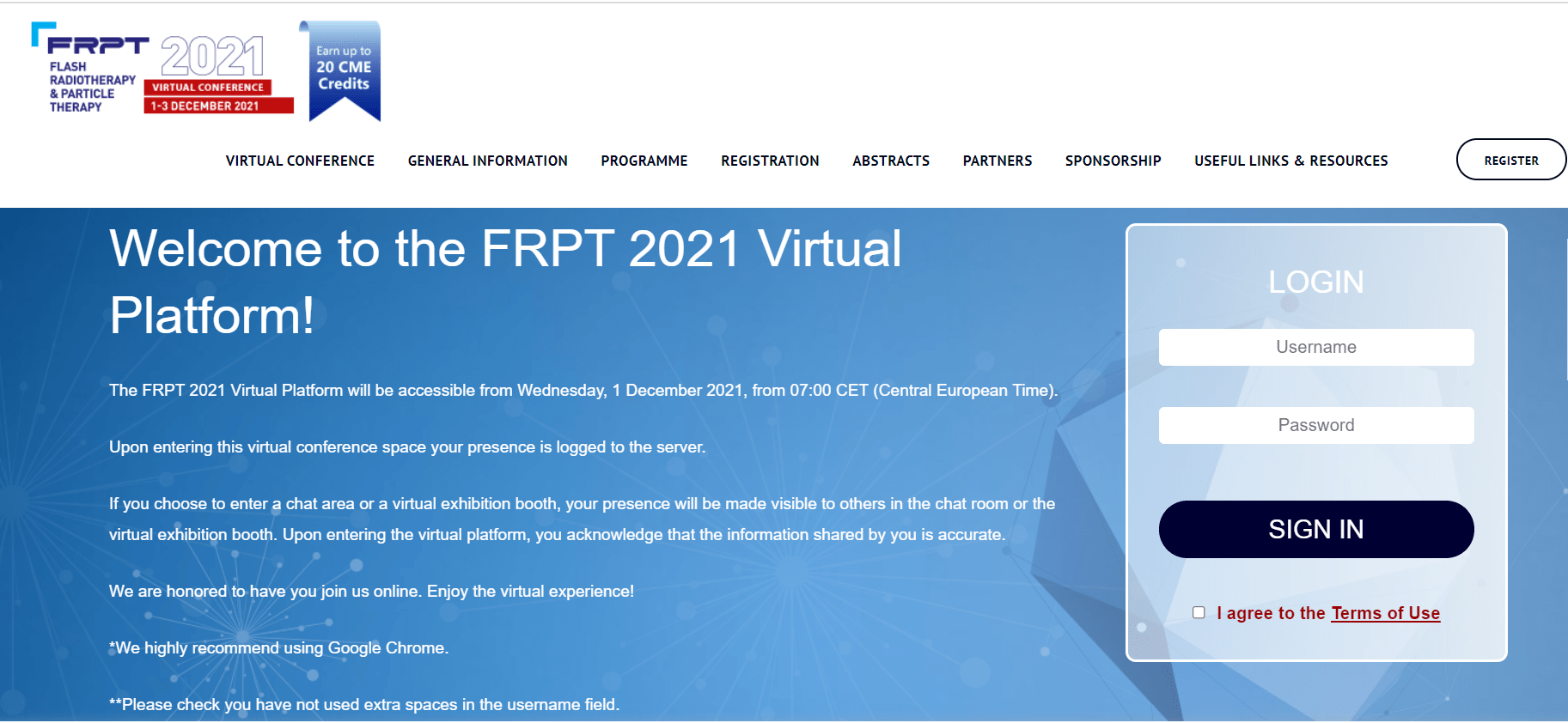 Start exploring!
After successfully logging in, you will arrive at the 'home screen' or the outside of the 1st FLASH Radiotherapy and Particle Therapy Conference venue – the External Lobby. Click on "Enter Here" to go to the Internal Lobby.
Once you enter the Internal Lobby, you can navigate around the entire virtual venue.
Clicking on screens and tabs will take you to other parts of the platform. You can also navigate via items in the top menu bar.
Enjoy scientific and industry sessions, visit the networking lounge, scroll around the booths in the virtual exhibition, and so much more. Enjoy your virtual journey!
More how to navigate the platform videos below
How to Access the E-Posters Gallery
How to Enter the Exhibition
Networking at the Virtual Conference
How to view the Scientific Sessions
Take your NETWORKING to the next level at FRPT 2021.
See in the video below how to use the SparkX platform, which will recommend you the most relevant people you should meet during the Conference and enables you to chat with them or set a 1-on-1 meeting.
INTERACTIVE LEARNING. ANYTIME. ANYWHERE.
See in the video below how to customise your learning experience at FRPT 2021!